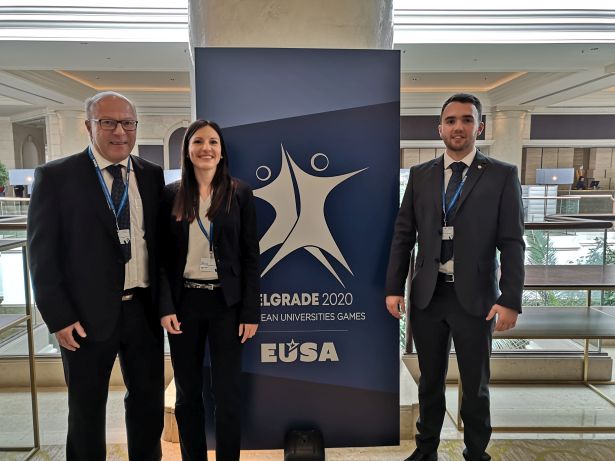 Mr. Dušan Vystavěl (TD Orienteering), Ms. Lea Medvešek and Mr. Liam Smith (both Sports Director Assistants) during EUG Convention Meeting in Belgrade prepared not only EUG competition, but inaugural orienteering championships in Olomouc as well. 
Dear participants,
our event is fast approaching and we would like to prepare the best event possible. This is why we would like to inform you that the registration platform closes end of this week. The only thing that will remain open are the Individual entry forms and Travel plans, which need to be send 1 month prior the competition.
Please note that June 15, 2019 will therefore be the last deadline to submit:
- Registrations and deposits for Beach Handball, Combat sports, Mind Sports and Orienteering;
- Quantitative entry forms and make payments:
- Participation fee – except Rowing, for which the payment of the participation fee can be made by the 15 August, 2019
- EUSA Entry fee – except Judo, Karate, Kickboxing, Rowing, Orienteering and Taekwondo, which can be paid in cash (in EUR) at the registration;
Please not to wait until the last day to finish these procedures. Thank you for your cooperation on this matter.
Should you need additional help on the registration please use the Step-by-step guide about the registration procedure on https://www.eusa.eu/media/documents/quick-registrations-guide
For more information regarding the EUC 2019 please follow this link: https://www.eusa.eu/events/championships/championships-2019
For the EUSA Rules and Regulations 2019 please click on https://www.eusa.eu/media/documents/eusa-events-rules-regulations
In case of issues or any other specifics, please do not hesitate to contact Ms. Hana Horvatova, head of Event Office (...) or Mr. Dusan Vystavel, EUSA TD Orienteering (...) or Ms. Lea Medvesek, EUSA Sports Director Assistant (...) .